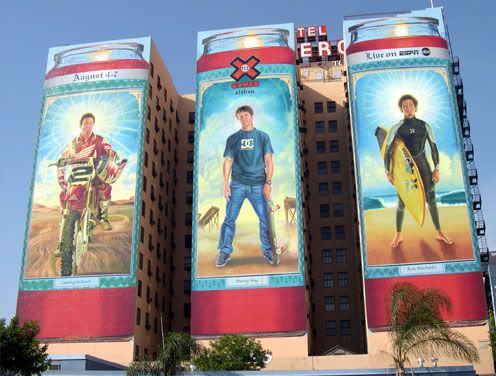 By Daniel Williams
I remember the first time I saw hand-painted advertising murals. Three enormous walls, several thousand square feet each, above a car-wash in downtown Los Angeles promoting the 2005 X Games. Once a common advertising medium, hand-painted advertising is now limited in the United States to only the largest metros.
UP THERE
is a beautifully directed short-film by Malcom Murray that tells the story of a few dare-devil artists in New York City fighting to keep their craft alive.
"Capturing a trade that is equal parts artistic precision and grueling labor, the film presents a painting tradition pre-dating modern advertising. A craft that today finds itself dangling precariously on the brink of extinction."
The documentary was filmed during the production cycle for
The Ritual Project
, a three-week evolving advertising mural for Stella Artois. The short film is presented by the Belgian brewer and features a team of artists from
Sky High Murals
in New York City.